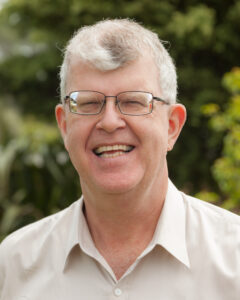 El compositor neozelandés David Hamilton (nacido en 1955) ha sido Director de Música en la Epsom Girls Grammar School hasta finales de 2001, donde dirigió el galardonado coro de niñas Opus. Ha sido subdirector musical de Auckland Coral (1996-2011) y Compositor-Residente con la Auckland Philharmonia Orchestra (1999) con la que mantiene una participación a tiempo parcial en la educación musical como tutor de composición y director coral.
Es conocido como compositor coral y director de orquesta, director de talleres y jurado. Su música coral es ampliamente interpretada y se publica en el Reino Unido, Estados Unidos, Alemania y Finlandia.
Su música ha ganado numerosos concursos de compositores en Nueva Zelanda y también en Italia (2000), Estados Unidos (2005, 2006, 2008, 2016 y 2019), Israel (2007) y el Reino Unido (2008).
En 2018 fue galardonado con la Comisión Comunitaria SOUNZ anual y en 2019 fue ganador en la competición de compositores del Atlanta Contemporary Ensemble.
---

New Zealand composer David Hamilton (b.1955) was Head of Music at Epsom Girls Grammar School until the end of 2001 where he conducted the award-winning girls' choir Opus. He has been Deputy Music Director of Auckland Choral (1996-2011) and Composer-in-Residence with the Auckland Philharmonia Orchestra (1999). He maintains part-time involvement in music education as a composition tutor and choral conductor.

He is well-known as a choral composer and conductor, workshop leader and adjudicator. His choral music is widely performed, and is published in the UK, USA, Germany and Finland. His music has won numerous composer competitions in New Zealand, and also in Italy (2000), the USA (2005, 2006, 2008, 2016 and 2019), Israel (2007), and the UK (2008). In 2018 he was awarded the annual SOUNZ Community Commission and in 2019 was a winner in the Atlanta Contemporary Ensemble's composer competition.

---