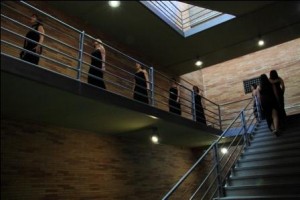 Jueves, 4 de abril de 2013
Concurso Internacional Amadeus de Composición Coral

La VII edición del Concurso Internacional Amadeus de Composición Coral recibe 111 trabajos
 
El pasado 14 de febrero finalizó el plazo de presentación de obras a la VII edición del Concurso Internacional Amadeus de Composición Coral, contabilizándose un total de 111 títulos. Se trata del mayor número recibido en cualquiera de las ediciones que casi dobla el de la edición anterior.
Han aumentado de forma considerable el número de trabajos presentados desde fuera de España, llegando en esta ocasión al número de 52 obras, procedentes de: Bélgica, Holanda, Francia, Alemania, Italia, República Checa, Bosnia-Herzegovina, Rusia, Irán, Argentina, Colombia, Venezuela, Brasil, México, Cuba, Puerto Rico, Estados Unidos (de varios estados) y España.
El CIACC a lo largo de estas siete ediciones se ha convertido en todo un homenaje al español como lengua romance del latín hasta sus últimas estribaciones dialectales, admitiendo trabajos en: latín, español o cualquier variedad lingüística propia de zonas extremeñas. Al concurso se presentan tanto trabajos originales como armonizaciones sobre melodías o textos que se dirigen eso sí, a agrupaciones de voces iguales y/o mixtas no profesionales. Este hecho ha posicionado en un lugar preferente a los países iberoamericanos cuya participación y número de galardonados destaca ya en su conjunto.
El concurso registra cada año diversos estrenos absolutos en distintos lugares de la geografía nacional e internacional; pero el pasado año, desde el comité organizador se intentó de manera especial, y con la ayuda del Gobierno de Extremadura, dar a conocer la música del certamen en la región. Así, se llevaron conciertos con obras del mismo a localidades tan variopintas como Brozas, Solana de los Barros, Granja de Torrehermosa…, realizándose conciertos monográficos en lugares tan representativos como el Teatro López de Ayala de Badajoz, la Biblioteca de Extremadura o el Museo Nacional de Arte Romano de Mérida. 
Además, Amadeus, siguiendo la línea de ediciones anteriores, ofrecerá gratificaciones a aquellas agrupaciones que estrenen obras del concurso, buscando con ello la promoción de música contemporánea, y en especial la promoción de obras de autores del CIACC. 
Durante el mes de junio se darán a conocer los ganadores de la VII edición si bien con anterioridad se publicarán en la web oficial las obras finalistas bajo seudónimo.
 
Más información en: www.coroamadeus.es
---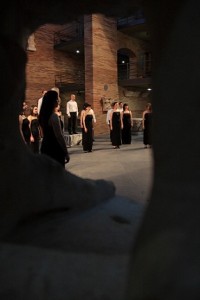 Thursday, April 4th 2013
Amadeus International Choral Composition Contest (CIACC) Internacional

VIIth Amadeus International Contest of Choral Composition (CIACC)
111 works participate in the Amadeus International Contest of Choral Composition
Last february 14th was the deadline to enter the VIIth edition of the Amadeus International Contest of Choral Composition, reaching a total of 111 entries, which is the highest number of works in a year ever and nearly doubles the latest edition's.
The number of works from abroad has increased considerably. They are 52 in all and come from Belgium, the Netherlands, France, Germany, Italy, the Czech Republic, Bosnia-Herzegovina, Russia, Iran, Argentina, Colombia, Venezuela, Brazil, Mexico, Cuba, Puerto Rico and several states in the USA.
Along its seven editions, the CIACC has become a tribute to Spanish as a Romance language, from Latin up to its farthest dialects, admitting works in Latin, Spanish or any other language varieties found in parts of Extremadura. The competition receives entries which are both original works and harmonizations based on melodies or texts actually aimed at amateur single-voice or mixed-voice groups. This fact has made Latin American countries occupy a priority place as their participation and awards lead the competition as a whole.
The contest claims to have premiered several works every year both in Spain and abroad, but last year the organizing commitee, in collaboration with the Government of Extremadura, tried to pay special attention to the task of spreading the music of the competition within our region. Consequently, concerts of its works were held in a variety of villages such as Brozas, Solana de los Barros, Granja de Torrehermosa…, with monographic concerts in emblematic places like the López de Ayala theatre in Badajoz, the Public Library of Extremadura or the National Musem of Roman Art in Mérida. 
Furthermore, keeping the course of action of previous editions, Amadeus will reward those choral groups who premier the contest's works, therefore seeking the promotion of contemporary music, and especially, of the works by the authors of the CIACC. 
The winners of the VIIth edition will be announced during the month of June, even though the short-listed works, and their pseudonyms, will be published on the official website prior to that.
Further information: www.coroamadeus.es
Contact details: angela.garcia@coroamadeus.es